My name is Michael Pugh, and I am an honorably discharged U.S. Army combat veteran.
I served on active duty for several enlistments with the 3rd Infantry and 82nd Airborne Divisions, as well as a platoon sergeant in the 4/160 Infantry California National Guard, where I graduated from many schools, including Airborne, Jumpmaster, Jungle Warfare, and Ranger Schools.
During my service, I amassed a distinguished record and am a highly decorated soldier.
After being discharged, I studied at San Diego State University, where I was awarded a merit scholarship at Oxford University, England.
How Everything Changed
From the outside, I was on my way to a successful life. I was married to a wonderful woman, and I had a Sales Executive position with a Fortune 10 company in New York City. Still, despite the appearance of that success, I was suffering greatly from PTSD, alcoholism, and drug addiction.
At the time, it felt impossible to ask for help.
As the cracks started to show, my wife left me, my career ended, and the respect of my family and friends was gone, but through all of this loss, I continued the horrible cycle of drinking and drugging every single day.
When I finally realized there was something wrong, I tried everything imaginable, including taking different prescription medications, moving to new cities, changing my career goals, admitting myself to various hospitals, talking to priests, visiting temples & ashrams as well as practicing Yoga, adjusting my diet, reading all kinds of self-help books, and even being voluntarily institutionalized multiple times, the list goes on.
My alcoholism and drug addiction nearly killed me; I experienced very clear suicidal ideation on a daily basis and felt no hope of finding joy in any area of my life.
During one of my hospital visits, I found myself in the Intensive Care Unit talking with a member of the VFW support network who was the 1st person to introduce me to Miracles Asia.
At the time, it felt like a mistake when they explained I qualified to receive in-patient care for substance use disorders related to PTSD, for which I have a service-connected disability rating.
"Within a few days, I was on a plane, flying to Thailand for my 90-day program at Miracles Asia, and those three months saved my life. There is no other way to say it."
During my stay, I received holistic, professional care from experts in treating addiction and underlying mental health disorders like PTSD.
I learned invaluable information and skills that have become built-in habits, which I've been able to take home to America. These are all practical, realistic things I use daily to keep me mentally, physically, and spiritually fit.
On the surface, it's known as a treatment center for alcohol and drug addiction, but Miracles Asia offers so much more.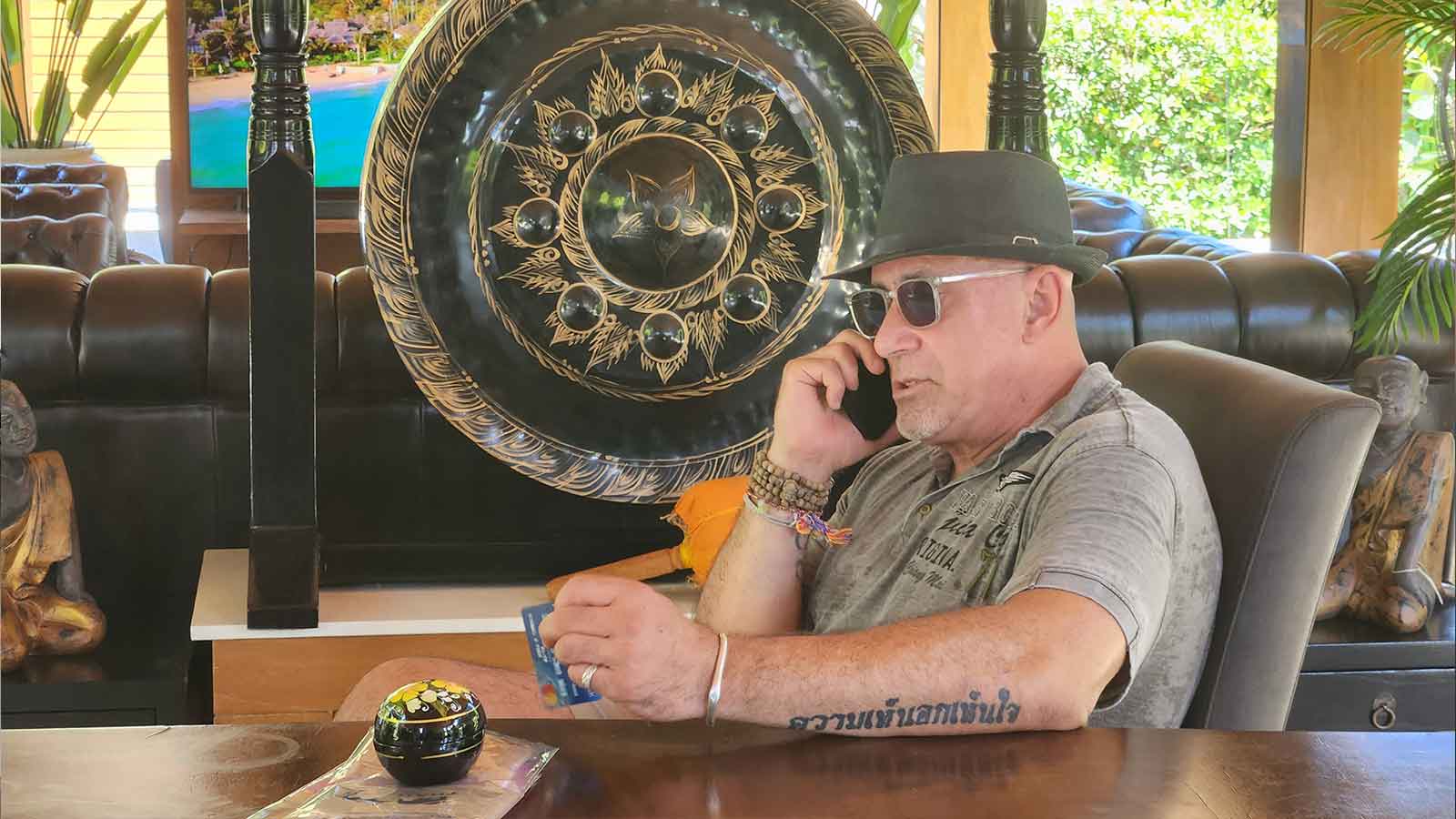 Daily Classes & Activities
On a typical day, I started at sunrise with either Yoga or a walk in the surrounding jungle. There is a small exercise room with equipment to do cardio or weights if you prefer.
After a shower and shave, the staff and clients sit together for a buffet breakfast prepared by the in-house chef, who provides an incredible selection of meals throughout the day and can accommodate any dietary needs.
After breakfast, we would move to a lounge area and sit in a small group of other people in treatment to do a daily check-in and discuss our issues with alcoholism and addiction. Graduates of the Miracles Asia program from around the world joined these check-ins through Zoom to share their experiences.
It was during these morning groups, I quickly learned how it is possible for people with addiction to graduate from the program and enjoy living healthy, productive lives.
Throughout my 90-day stay at Miracles Asia, I made several close friends who are now back in their home countries, living addiction-free lives. I still keep in regular contact with all of them.
Each day is structured slightly differently, but they are all filled with classes that range from Cognitive Behavioral Therapy, Step Meetings, Relapse Prevention, Psychoeducation, Self-Awareness, Mindfulness, Meditation, and Art Therapy.
Twice a week, I had two 1 hour sessions with a Western Therapist with extensive qualifications, including a Ph.D. and experience working with Veterans suffering from Post Traumatic Stress Disorder (PTSD). My sessions with him was structured to focus on specific areas related to my own experiences with alcohol and drug addiction, as well as my underlying PTSD.
Sports & Exercise
We traveled as a group three days a week to a nearby Sports and Wellness Resort called Thanyapura. This massive facility accommodates everyone from locals to Olympic teams doing their training sessions. Exercising at their gym, relaxing in the saunas, swimming in the pools, playing tennis games, enjoying a massage, and even getting some physiotherapy were all activities that I enjoyed doing regularly. Extra services like personal fitness coaches and classes were also available if one desired.
Once a week, we had the opportunity to attend off-site 12-step recovery meetings on one of Phuket's best beaches. These meetings were casual and laid back with people from all backgrounds who are now living in Thailand - it was a pretty cool feeling to be sipping on a coconut and enjoying some Thai food at the beach while listening to people with years of recovery share their experiences, strength, and hope.
Exploring Thailand
The Sunday excursions were epic, and after an intensive week in the treatment center, it was great to get a taste of Thai culture with my new friends.
Whether it was on a boat trip to some islands with snorkeling and bike rides, visiting a local elephant sanctuary, or river rafting, these outings will be something I always remember. If you are considering going to Miracles, ask to see the library of photos from their many excursions to understand better how much fun can be had during the recovery experience. Words alone cannot describe how this helped me to understand it is possible to get through basic weekend activities without even thinking of needing a drink.
I learned a lot about myself and the disease of addiction while at Miracles Asia and made what I feel are going to be lifelong friendships during my stay. On top of this, I am now part of a fantastic family of people from all walks of life who are living healthy, happy lives in every corner of the world.
Wrapping Up
The most important things I received during stay at Miracles Asia are skills that I will always carry with me, and that's the ability to live my life one day at a time, free from the bondage of active alcoholism and addiction.
The peace and serenity I feel, along with the physical differences I now experience in recovery, are absolutely priceless.
My contact information is with Miracles Asia. I would be more than grateful to connect with you regarding how to engage with the VSW and Miracles Asia for proper treatment if you or a loved one needs help with addiction to drugs & alcohol or PTSD. I encourage any Veteran who is serious about recovery and wants the opportunity to live a life free from addiction to visit Miracles Asia and get the treatment you deserve.