Depression is a condition that affects more people than one would think. According to Statista, in April 2023, over 24% of responders, which consisted of more than 54,000 adults aged 18 and more, reported depression symptoms in the last one to two weeks.
It's important to remember that depression comes in many forms and in different degrees. Someone's symptoms might not be as impactful as in the case of severe depression, but it can still affect their health, both mental and physical.
Antidepressants can help with treating depression as long as they are used correctly, which isn't always the case as many people search online with questions questions such as are antidepressants addictive or can you get addicted to antidepressants. 
 
In general, as with other types of drugs, antidepressants do pose a risk of addiction, so if you or your loved one are suffering from antidepressant addiction, it's crucial to get help so that it doesn't affect your life more than it already has. You should always speak with your Doctor before changing any prescribed medications.
Understanding Antidepressants and Depression

Depression, also known as depressive disorder, is a medical condition that affects the way you feel, the way you think, and how you act. One of the most common symptoms associated with it are feelings of sadness, as well as losing interest and enjoyment from things that you used to like doing. Untreated depression can lead to the advancement of symptoms and might affect your work and personal life, preventing you from functioning normally.

There are several types of depressive disorders, including:
Persistent depressive disorder

Premenstrual dysphoric disorder

While life with this condition is definitely not easy, it is possible to treat depression. One of the most common ways to do this is by taking antidepressants, which is often combined with psychotherapy (talk therapy).

Antidepressants have been used for several decades now, with two of the most commonly prescribed antidepressants being selective serotonin reuptake inhibitors (SSRIs) and serotonin and norepinephrine reuptake inhibitors (SNRIs). Aside from them, there are also monoamine oxidase inhibitors (MAOIs), noradrenaline and specific serotonergic antidepressants (NASSAs), tricyclic antidepressants (TCAs), atypical antidepressants and serotonin antagonists and reuptake inhibitors (SARIs).

Today, many of them are used to treat not only depression but also a number of other mental health conditions, including anxiety, panic disorders, trauma disorders, and, in some cases, even chronic pain.

Antidepressant Addiction

Addiction works slightly differently in the case of antidepressants than it does in the case of substances like alcohol, heroin, cocaine, etc. Contrary to them, antidepressants don't result in a high or a feeling of euphoria, nor do they work immediately. Instead, it can take as long as a few weeks before those taking them can feel any difference.

There are two common forms of antidepressant abuse. The first one is using more than the prescribed dose, typically because a person feels like the depression medications aren't working fast enough. The second one is combining antidepressant treatment with other substances, such as alcohol, to boost its effects.

Taking a higher dose of an antidepressant medication than prescribed by health care providers can increase the likelihood of experiencing side effects.

Common possible side effects of antidepressants can include:

Sexual problems, such as reduced sexual desire, erectile dysfunction or difficulty reaching orgasm

Sleep disturbances, such as insomnia or excessive sleepiness

Antidepressant Overdose

It is possible to overdose on antidepressant medications, both intentionally and accidentally. Some of the common symptoms of antidepressant overdose include:

Agitation or restlessness

Rapid or irregular heartbeat

Drowsiness or loss of consciousness

Antidepressant Medications - Treatment and Rehab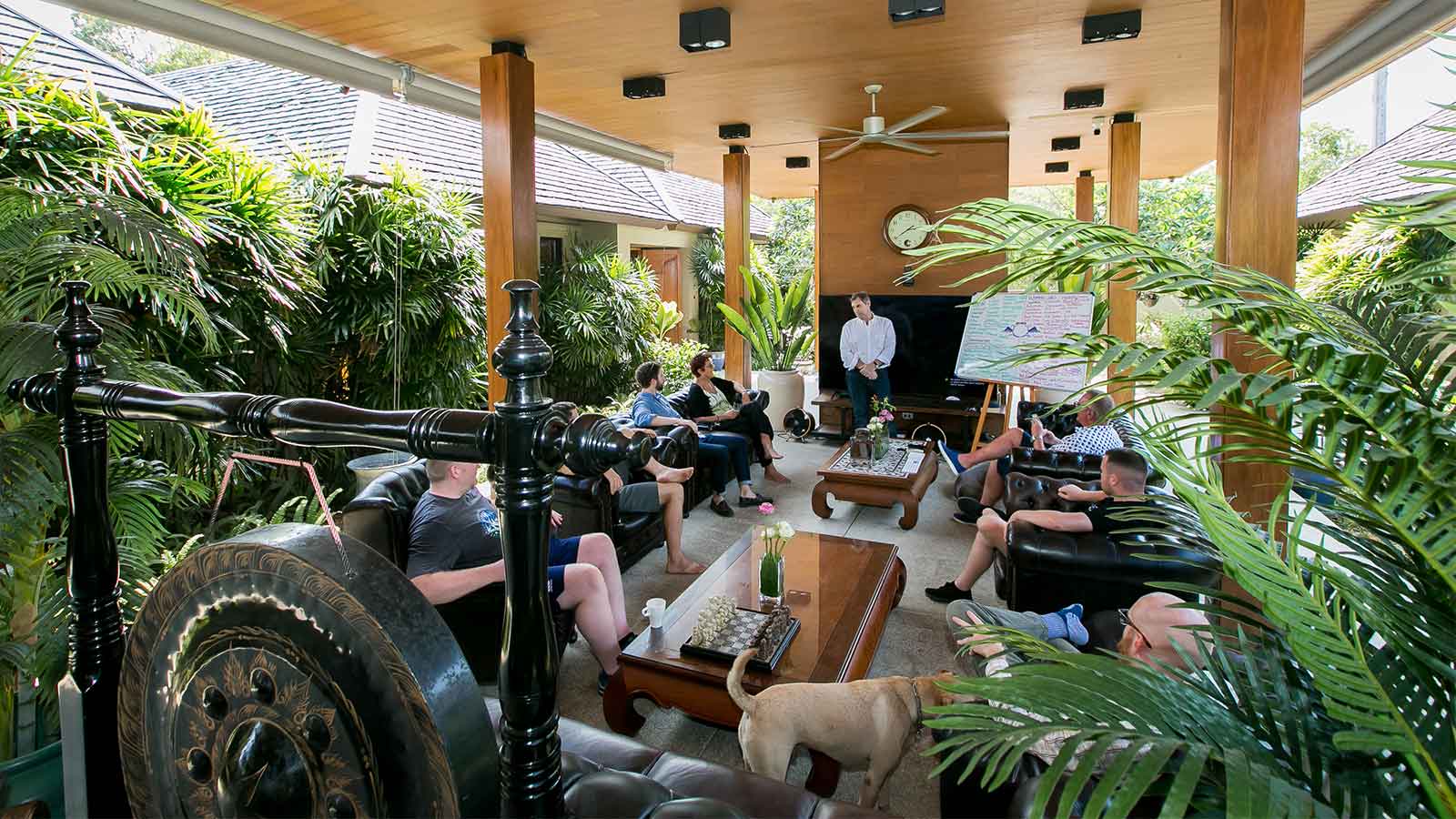 While antidepressant addiction does not resemble the likes of alcohol dependence or heroine addiction, it is still a dangerous condition that requires appropriate treatment as soon as possible. Keep in mind, however - just like with any other form of addiction, the decision about getting better needs to be consciously made by the person who struggles with it.

Stopping the use of antidepressant drugs should always be done under the supervision of medical professionals, as some people might experience negative withdrawal effects.

At Miracles Asia, we offer a comprehensive rehab program that will allow you to live your life without depending on antidepressant medication. We make sure to tailor the program to the individual needs of our guests so that they won't need another residential rehab center again. We are located in Thailand, and our rehab center is surrounded by breathtaking scenery, which you will be able to explore.

However, that's not all. Some of the things you can expect when joining our rehab facility include:

Upon arrival (or when you feel ready for it), you will be taken to a state-of-the-art international hospital located nearby to get a comprehensive health check.

Our team will provide you with a customized detox program that will take into account things like the substance you are abusing, what are the withdrawal symptoms you can expect when you stop using it, and potential health risks. If the level of care needed is higher than we can provide, you will be welcome to stay at the hospital.

Every week, you will be having individual therapy sessions with a therapist, during which you will be able to discuss matters such as what led to your addiction or how the dependence affect you, your way of thinking, and your behavior. You will also have access to expert psychiatric support.

At Miracles Asia, we aim to educate, which is why you will have the chance to participate in a daily 1-hour focus group. During those sessions, you will be learning in-depth about how your addiction works and affect your life.

You will have regular sessions with a personal recovery coach, and together you will create a custom relapse prevention plan that will focus on things like risks and potential triggers associated with your individual situation. Since it is tailored to you, it allows you to apply the things from it to your daily life even years after you come back from rehab.

We understand that overcoming addiction can be overwhelming to do on your own, which is why we provide our guests with opportunities to connect with others who are going through a similar thing, some of which take place on the beautiful Phuket beaches.

An important aspect of recovering is putting your focus somewhere else, which is why during your stay at the Miracles Asia facility, you will have access to the world-class sports and health center. For up to two hours three times a week, you will be able to put your mind at rest and shift your focus towards exercising or relaxing.

Finally, getting enough nutrients can make a world of difference when it comes to recovery, which is why we have a 5-star executive chef on our team that will take care of all of your culinary needs.

Antidepressants Addiction - Aftercare

Rehab is just the first step of the recovery - what happens after that is as important. There are several things that should be included in your aftercare system, including:

Support Groups
support of those who went through a similar thing to you, as well as your family and friends, can make a difference not only during the recovery but also after you finish the rehab program.


Good Sleep Schedule
this might not be related to antidepressants in particular, but having a good sleep schedule can improve the state of your mental health, which, in turn, can lower the chances of the relapse of your mental health symptoms.


Outpatient Therapy & Primary Care
having a medical professional supporting your recovery can be instrumental. This is especially true if you're suffering from physical conditions that might have an effect on your mental health and that might have contributed to your depression.

At Miracles Asia, the support doesn't stop the moment you go back home. We take care of our patients even after they're done with the program, providing them with one-on-one sessions with their dedicated Support Staff once a week for the first few weeks, as well as lifetime access to morning and evening meetings for as long as you need, among other things.

The Bottom Line

Any addiction can affect a person's life negatively, whether it's alcohol, heroine, cocaine, or some other substance that is being abused. Antidepressants are not an exception, as misusing them can have serious consequences.
At
Miracles Asia
, we make sure that our patients are well taken care of. We want you to make a conscious decision about joining our rehab facility, so if you have any questions regarding the program or something else, don't hesitate to reach out to us. We will be more than happy to answer any and all inquiries you might have.